Please use the link below for the Greenville Workshop
Survey

.  We appreciate your evaluation of our Suzuki Workshop.

SURVEY                                                                           Thank you for coming! Please take a minute to tell us about your experience at the Workshop by filling out a SURVEY for us. You can write as much or as little as you like. We are always striving to do better and your input is very important to us. https://www.surveymonkey.com/r/KBMJWCV
Friday night features Lessons with Master Teachers, Orchestra, and Fiddling.  The full day on Saturday

kicks off 

with a Play-In led by Terry Durbin and Rodney Farrar at

8:00 AM

in the GHS Auditorium. 
February 3-4, 2017
Registration for the 2017 Workshop is now Open!  Click on Register tab for registration forms.
Early Registration Deadline, January 6, 2017.  If payment is made after January 6, the full registration fee of $80 is due. 
Registration Deadline, January 20, 2017
After January 20, registration is not guaranteed.  We will honor as many late registrants as possible.  Registration fees are non-refundable after January 20, 2017.
Registration is not complete until all Forms and Registration Fees are received by Greenville Suzuki Workshop. 
A student will not be scheduled for classes until registration is complete and full payment is made. 

Late registrants will be scheduled only if space is available and after all registration fees are paid.

Location of Workshop:
Greenville High School
3515 Lion's Lair
Greenville, Texas  75402                                                        
WELCOME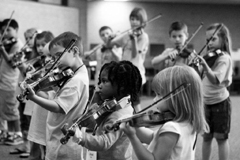 The Greenville Suzuki Strings program owes its existence to the support of our community. It's not common to find a program such as ours in any public school system, let alone in a relatively small town. However, it's not surprising given Greenville's history of music advocacy and appreciation. The champions in implementing this program, the Greenville Suzuki Strings Association (GSSA) and the Greenville Independent School District (GISD), are prime examples.
The GSSA and GISD join other non-profit organizations whose purpose is to enrich our lives through music. The Dallas Symphony Orchestra in Greenville Series, Kenneth Threadgill Concert Series,  Bob Wills Fiddle Festival and Contest,  and Greenville Entertainment Series all bring live music to our community throughout the year. All of these organizations rely on the patronage of our neighbors and community businesses.
Funding for this event is provided in part by the City of Greenville Hotel/Motel Occupancy Tax Revenues.
For more information about the City of Greenville and all we have to offer, please go to
Here you can explore things to do in Greenville as well as history, places to dine, hotels, attractions, annual events, and much more.